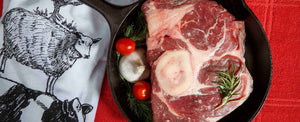 This Slow Cooker Beef Roast Recipe will be your savior when you are limited on time and need a warm-up in the winter cold! As a college kid, I am all about ease, and a beef roast in one of the easiest, most delicious meals you can do.
The cut of meat we are using for today's featured recipe is skirt steak, which is a cut of beef from the diaphragm muscle. Skirt steak is a very economically friendly cut and can be prepared to create a fantastic explosion of flavor!
Cold temperatures cause the need for a belly-filling warm meal for lunch or dinner. Our family loves to throw a few ingredients together into a pot and let it simmer and have a delicious, filling meal.