Celebrate Super Bowl Sunday with Premium Oak Barn Beef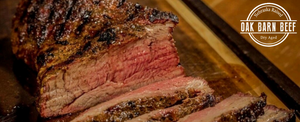 The year 2020 is upon us and just around the corner is every football fan's favorite day: Super Bowl Sunday! Get ready for the annual holiday by stocking up with Oak Barn Beef's premium beef. We have a specific special for Super Bowl Sunday.
Super Bowl Sunday is set for February 2, 2020. Order this bundle before January 26 to make sure you don't miss this packed special to cheer your team to victory.
This special is designed with the football fan in mind. When creating this special, we asked ourselves "what are the ultimate cuts for the ultimate football fan?" We came up with quite a few in mind… Let us know your feedback.
This is what we came up with for you:
4 Sirloin Steaks

4 Flat Iron Steaks

1 4-5 pound Brisket (because what's easier AND tastier than a brisket?)

3 pounds of stew meat 

6 pounds of Ground Beef in single pound packages
While these cuts all seem a bit different than the others in this bundle, they're more complementary than you may think. Our team dug through the internet to find some of the best recipes for each of these cuts and what you can make with them to celebrate your team.
First up, Sirloin Steaks. This recipe from Mississippi Market sounds like a great one to try out if you decided that steaks are the perfect meal for your Super Bowl Sunday. Shop our Sirloin Steaks here!
Next up, Flat Iron Steaks. If you are having more people to feed than four and want to make steaks, then you can cook sirloins and flat irons for your crowd. You can cook these just like the sirloin steak recipe. Shop Oak Barn Beef Flat Iron Steaks here!
Next is the daddy of them all: The Brisket. If you have 8-10 people to feed, make this! It requires a "low and slow" mentality, as you have to cook it for a long time at a low temperature. Remember, patience is a virtue. Check out this recipe by Cold Weather Comfort.
Shop Oak Barn Beef Brisket by clicking here!
Stew Meat is one of my favorite meals. It's simple, so warming, and it is ALWAYS a crowd pleaser. Check out the matron of Oak Barn Beef's recipe by clicking here!
Shop our Stew Meat by clicking here!
Finally, ground beef is such a diverse cut. I know I have said every cut is perfect for Super Bowl Sunday, but ground beef is the PERFECT cut for Super Bowl Sunday. It is diverse, easy, and a more financially friendly option for a large crowd. Here are a few of my favorite ground beef recipes:
This special will be live on our website beginning on January 20, 2020. Find it under the 'Specials' tab on our website!
Whoever you are rooting for this Super Bowl Sunday, Oak Barn Beef would be absolutely honored to be apart of your day. This Super Bowl Special will be the perfect to stock your freezer for the Super Bowl Sunday and the days following. Premium beef from a Family Farm - give us the opportunity to show you how great our Nebraska Raised & Dry Aged Beef truly is.
Leave a comment