Easy & Family-Friendly Beef Crock Pot Meals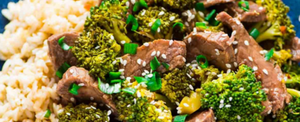 Can we get just take a moment, and sing the hallelujah for the inventor of the crock pot? Especially during the crazy busy holiday season? With minimal prep and work, you can have a home cooked meal ready to eat at the end of a busy day.
I absolutely love a crock pot and find it super easy to use. I simply throw in some Oak Barn Beef and a few other ingredients before heading off to school for the day or working on the farm all day and by the time I get in……the meal is ready! It really takes a lot of time out of cooking and makes the beef so tender and flavorful.
I wanted to share with you a few family friendly, easy, and delicious crock pot recipes that goes well with our dry aged beef raised right here in Nebraska.
Photo Credit: 365 Days of Slow+ Pressure Cooking
365 Days of Slow + Pressure Cooking's, "Slow Cooker Beef and Cheddar Ranch Potatoes"
1-pound Oak Barn Dry Aged Ground Beef
3 tbsp. dry ranch mix
1 14oz. can chicken or beef broth
2 pounds russet potatoes, cubed
2 tsp. chili powder
½ cup crumbled bacon
½ cup grated sharp cheddar cheese
Instructions:
Add the Oak Barn dry aged ground beef, ranch dressing, broth, potatoes and chili powder into the slow cooker. Stir a bit.
Cover and cook on low for 4-6 hours, or until potatoes are tender.
Toss in the bacon and cheddar.
Scoop into serving bowls and enjoy.
Recipe from: 365 Days of Slow + Pressure Cooking
Photo Credit: Slow Cooker Gourmet
Slow Cooker Gourmets, "Slow Cooker Steak Fajitas"
1 package Oak Barn Beef Dry Aged Skirt Steak
2 bell peppers
½ large red onion
8 oz sliced baby portobello mushrooms
2 tablespoons olive oil
Juice of one lime
1 tablespoon honey
1 teaspoon chili powder
1 teaspoon cumin
½ teaspoon garlic powder
½ teaspoon dried cilantro
½ teaspoon sea salt
¼ teaspoon pepper
Flour tortillas
Sour cream, cheese for serving (optional)
Instructions:
Place Oak Barn Beef skirt steak in bottom of slow cooker
Remove ribs and seeds from peppers and slice then add to slow cooker on top of steak
Peel onion and slice into petals and add to slow cooker
Add pre-sliced mushrooms on top
Whisk together all remaining ingredients and pour over meat and veggies
Cover and cook on high for 3-4 hours or low for 6-8
Remove and slice steak and remove veggies from slow cooker (you won't want all the sauce as they would be soggy)
Serve with tortillas, sour cream, cheese or as desired
Recipe from: Slow Cooker Gourmet
Photo credit: Well Plated
Well Plated's, "Crock Pot Beef and Broccoli"
1 1/2 pounds Oak Barn Beef Dry Aged Flank Steak — cut across grain into thin slices
1 cup low-sodium beef broth
1/4 cup low-sodium soy sauce
1/4 cup oyster sauce
1 tablespoon honey
1 tablespoon rice vinegar
2 teaspoons chili-garlic paste — Sriracha, or 1/2 teaspoon red pepper flakes, plus additional to taste
2 teaspoons minced garlic — about 2 large cloves
2 tablespoons cornstarch
5 cups broccoli florets — about 2 small crowns
Prepared brown rice — or quinoa for serving
Chopped green onions — and toasted sesame seeds optional for serving
Instructions
Coat a 4-quart or larger slow cooker with nonstick spray. Place the Oak Barn Beef Dry Aged Flank Steak in the bottom.
In a small bowl, stir together the beef broth, soy sauce, oyster sauce, honey, rice vinegar, chili-garlic paste, and garlic. Pour over the beef, then stir to combine. Cover and cook on low for 1 1/2 hours.
In a small bowl, whisk together 1/4 cup water and cornstarch. Stir into the slow cooker with the beef and sauce, then place the broccoli on top. Cover, turn the heat to high, and cook another 30 minutes, until the broccoli is tender. Serve warm over rice, sprinkled with green onions and sesame seeds as desired.
Recipe from: Well Plated by Erin
I hope these simple recipes make your holiday season a little less stressful and create a more peaceful time around your dinner table. If you need any of the Oak Barn Beef cuts above please check out our individual cuts section of our website here and check out all of other beef packages as well. Also, if you do decide to make one of these amazing crock pot meals with Oak Barn Beef, please tag us! We'd love to hear just how it turned out!
Leave a comment