Grilling The Best Dry Aged Beef Roast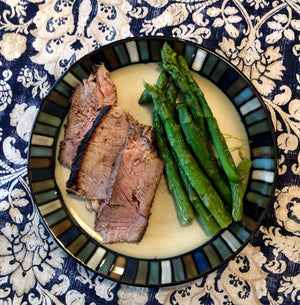 I posted about my family grilling our beef roasts and Instagram went NUTS!
I had no idea that this wasn't a common practice, but in the summer we grill our roasts and eat them on salads, with a vegetable, or as a meat addition to any meal. It is such a simple and DELICIOUS practice to use a cut that has been deemed a cold-weather cut of beef.
When we asked our followers if they have ever tried grilling roasts, out of 659 people, 82% of people said no! 
There were a lot of questions on how we grill them, so what better way to share this than on our Recipe Blog. As mentioned before, we are not professional chefs, but I love to share the different ways we prepare our beef. Seriously, this is so tasty that we eat pieces while cutting the roast and there are barely any pieces for actual dinner. (Guilty!)
Here's how we grill our roasts:
Thaw by putting the roast in the refrigerator the day before

NEVER thaw beef on the counter
If you need to thaw something quickly and will cook it immediately after, you can try thawing in cold water or microwaving. Just be careful to avoid the 'danger zone' and cooking the meat via thawing methods!

Rub spices on thawed roast

Onion Powder
Garlic Powder
Meat Tenderizer (Unsalted)
Salt
Pepper
Cayenne - if you want a little spice!
Grill on low for 1-1.5 hours

Every grill is different, so it is important to use an internal thermometer to measure the meat's temperature.

Take off the grill when the internal temperature is 145

°

145

° is medium rare, use the graphic below if you prefer a different amount of doneness!
Let the roast sit for 3 minutes before cutting

This helps the juices seep in and it results in a MUCH more juicy cut - this is a recommended process with all grilling cuts.
Wa-la! A delicious dinner with minimum effort and a great way to use Oak Barn Beef Roasts in the summer. If you've ever tried grilling your roasts, comment below! I want to hear about your experience.
Oak Barn Beef Roast's are a customer favorite! Time and time again, we hear from customers that our roasts are the best they have ever had. One customer told me when she slow cooks the roast, it takes 2 hours less than the grocery store beef roasts because ours are THAT MUCH MORE TENDER that they fall apart in much less time. 
Why Oak Barn Beef's Beef is so much more tender:
Leave a comment