We Moo-ved! (Woohoo!)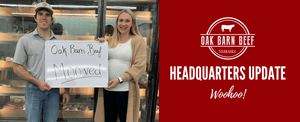 If you've been following along with our journey, you know that Oak Barn Beef has had a new headquarters in the works since the beginning of the year... And we are finally SO excited to announce - we moo-ved! We now have a shop in the town of West Point, Nebraska.
Freezer & Shipping Area
The new freezer and shipping area are complete, and it is perfect timing before the busy holidays and before Hannah & Eric's baby makes her debut into the world (any day now :D). We still have some organization and set-up to do, but here are some photos of the new space:
Storefront & Office
The storefront is still a work in progress, but we are still hoping to open mid-December after we get a little more settled with our little one! We will keep you updated on a date. If you are in the area and want to pick up beef before then, just let us know, and we will coordinate with you! Here are the bones of the storefront area - now to add all the fun stuff! 
A look back...
It's hard to believe that it was only 2 years ago when we built our 'beef room' in West Point... And just 2 years before that, we built our very first beef room at Hannah's parent's farm in Unadilla. Let's hope we get to stay in this building for a little longer than 2 years.
Here's a throwback photo from the West Point Moo-ve!
Click Here to Read the Blog Post From 2 Years Ago
THANK YOU
Thank you for following along with us on this journey! We are close to being able to welcome friends into the storefront in mid-December. Are you able to come see us when we open!?
2 Responses
Leave a comment