Give the Gift of Beef for the Holidays | Oak Barn Beef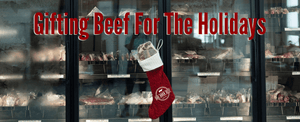 The holiday season is all about coming together, making memories, sharing a delicious meal, and finding the perfect gifts to show our love and appreciation to the ones we hold dear. If you're struggling to find the perfect gift for that hard-to-shop-for person on your list (or anyone, really), we've got a great suggestion: give the gift of beef!
When it comes to growing high-quality beef, we believe there is no place like Nebraska! Our grass-fed, grain-finished herd is DNA tested to ensure that only the highest quality cattle transition into the beef program. Each steak is hand-cut by our local butcher and dry aged to perfection. The marbling is incredible (thanks to the DNA testing!) and the tenderness is unmatched. Our customer reviews will tell you everything you need to know: you're sure to find a beef bundle for even the choosiest carnivore on your list!
This year's holiday collection is designed with versatility in mind! We've got four different bundles ranging in price and contents to "meat" the needs of anyone on your list.
Corporate Gift Bundles
This year, give your employees, customers, and clients what they actually want. Nothing says "we appreciate you" like a corporate beef bundle! From our beef jerky & sticks package to our various corporate gift boxes, you'll find an option to fit your budget and your recipients' taste.
Prime Rib Pre-Order
Don't get us wrong; turkey and ham are fine for Christmas dinner, but Prime Rib is impossible to beat. If you're interested in putting a little joy on your table for the holidays, let us know! We've opened our 2023 Prime Rib Preorder and quantities are limited. When you're ready to order, make sure you know whether you want bone-in or boneless, and approximately how large of a prime rib you need. Generally speaking, bone-in roasts tend to be more flavorful and juicy, but boneless roasts take less time to cook and are easier to carve. You'll want to plan for about one pound per person for boneless roasts, and one rib per person for bone-in.
Save on Your Holiday Beef Purchase
Small Business Saturday is coming up and you won't want to miss the sales we've got planned! Be the first to know about our special deals by signing up for our email list at the bottom of this page. You will also receive a code to get 2 pounds of ground beef for free in your first order over $100!
We take pride in caring for our cattle and bringing you the highest quality beef on the market. When you buy from a family-owned business like ours, you're not only treating yourself to an exceptional culinary experience but also supporting local agriculture and community. Your purchase helps ensure that quality, tradition, and care are carried on to the next generation. Happy holidays from our family to yours!
To learn more about our family-owned beef operation, you can visit us at www.OakBarnBeef.com or stop in and see us at 706 S. Lincoln St. in West Point, Nebraska.
Leave a comment