Beefing Up Your Holiday Dinners | Oak Barn Beef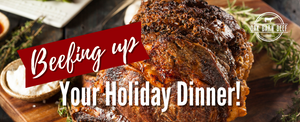 As the holiday season approaches, it's time to start thinking about those glorious feasts that bring friends and family together. This year, let's put something on the table that's really worth celebrating. We're here to talk about beefing up your holiday dinners with a red meat twist that's sure to have your taste buds doing a happy dance.
Beef Main Courses
We know turkey and ham have long been the stars of the holiday dinner table, but let's not forget about the magic that can happen when you add some beef to the mix. If you're a beef-lover like we are, why not let your favorite protein shine at your holiday celebrations? Here are a few great beef main courses.
Prime Rib
Move over, turkey! Prime rib is here to steal the show. A delicacy in its own right, this succulent cut of beef needs no introduction. Generously seasoned and slow-roasted to tender, medium-rare perfection, your guests will be drooling in anticipation. The beauty of prime rib is that it's both impressive and incredibly easy to prepare. Plus, the leftovers make for mouthwatering sandwiches the next day.
Beef Wellington
Looking to add a touch of elegance to your holiday spread? Beef Wellington is the way to go. This dish combines tender beef filet, savory mushroom duxelles, and flaky puff pastry, all baked to golden-brown perfection. It's like wrapping your taste buds in a cozy holiday blanket of deliciousness.
Beef Side Dishes
Not ready to share the spotlight with the turkey or ham? That's okay. Beef can play a great supporting role in your holiday dinner! These side dishes will leave your guests satisfied and your fridge noticeably less leftover-heavy.
Cheesy Beefy Mashed Potatoes:
Elevate your mashed potato game by mixing in some savory ground beef and melted cheddar cheese. These cheesy beefy mashed potatoes will have your guests going back for seconds (and maybe thirds). It's comfort food with a holiday twist!
Beef-Stuffed Mushrooms
Nobody can deny the appeal of stuffed mushrooms. Ground beef mixed with herbs and cheese creates a savory filling that's a perfect pre-dinner hors d'oeurve.
Creamy Beef Gravy
Don't forget the gravy! A rich and creamy beef gravy can transform ordinary mashed potatoes into a heavenly side dish. Drizzle it over your potatoes and watch as your guests go back for seconds (and thirds!).
Bacon-Wrapped Asparagus with Beef
Asparagus gets the ultimate glow-up with a little bit of help from some beef and bacon. Simply add strips of beef and wrap it in crispy bacon. It's a side dish that's both elegant and indulgent.
Beefy Mac 'n' Cheese
Save this mac 'n' cheese a spot at the grown-up table; everyone's childhood favorite is getting an upgrade this holiday season! Toss in some tender beef chunks… we promise you won't be disappointed. It's comfort food at its finest that will have even the pickiest eaters asking for more.
Creamy Beef and Mushroom Risotto
Risotto lovers, rejoice! Creamy beef and mushroom risotto is here to add some creamy, savory goodness to your holiday spread. The tender beef and earthy mushrooms meld perfectly with the creamy rice, creating a dish that's pure holiday bliss.
Adding beef to your holiday dinners is a great way to make this year's celebrations extra special. Whether you're going all-in with a magnificent prime rib or just looking to sneak some beefy goodness into your sides, these ideas are bound to delight your taste buds and leave your guests asking for more.
To learn more about our family-owned beef operation, you can visit us at www.OakBarnBeef.com or stop in and see us at 706 S. Lincoln St. in West Point, Nebraska.
Leave a comment