Instant Pot BBQ Beef Roast Recipe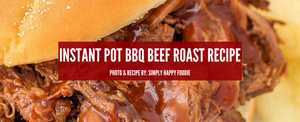 Roasts are either something people LOVE or LOATHE. When most people look at a beef roasts, they think of the typical "throw in a crock pot and have left overs for days" thoughts. But what a wonderful cut of beef that they are!
Beef roasts are so versatile and you can make many different recipes with them. One of my favorites is BBQ Beef Sandwiches. We plan to eat bbq beef sandwiches the first night and then have something different with the left overs. I am planning to make a homemade bbq beef pizza with the left overs!
Okay, let's jump into the recipe! It was inspired by Simply Happy Foodie.
Here's what you will need:
A bonus of this recipe is that these are all ingredients that I have on hand, so I don't have to run to the grocery store for last-minute grabs.
Cut the roast into medium sized chunks (similar to stew meat size)

Add the vegetable oil into the Instant Pot and hit the saute function

When the oil is hot add the roast chunks in an even later at the bottom and put on the lid

Once the saute function ends, stir the beef so the other sides can be browned

Take the meat out and add in the onion. Add in a splash of beef broth

Add the remaining broth and add the beef back in the pot. Put on the lid and make sure the steam release knob is sealed.

Set to pressure cook and select high pressure. Set the timer to 60 minutes.

After the 60 minutes, let it sit for 10 minutes. Then release the steam release knob. 

When the lid unlocks, remove the meat and put it in a bowl to shred it. Use 2 forks to shred the meat.

You can either mix the barbecue sauce into the meat or add it on the sandwich
Enjoy!
We hope that this recipe helps you utilize your beef roasts and enjoy them thoroughly! Have you tried this recipe? Comment below!
Shop Oak Barn Beef Roasts by clicking here!
Leave a comment