Beef Roast Recipes - Ultimate Recipe Guide for Beef Roasts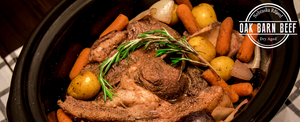 Need some beef roast recipes? Don't worry. I've got you covered. 
With 5 recipes, consider this your "Ultimate Recipe Guide, for Beef Roasts".
You are welcome.
Really Good Crock Pot Beef Roast
Photo credit: Creations by Kara
Prep Time: 10 minutes 
Cook Time: 8 hours 
Total Time: 8 hours 10 minutes 
Ingredients:
3 pounds

Oak Barn Beef roast

 

Pepper to taste 

1 envelope dry onion soup mix 

1 can cream of mushroom soup 

1/2 cup water 
Instructions:
Brown meat in a small amount of oil on all sides. Sprinkle with pepper and place in a 6 quart Crock pot.

Dump the onion soup mix on top, then add the mushroom soup.
Add the water to the pan you browned the meat in and use a whisk to get up all the drippings. 

Pour over the top of everything in the crock pot.Cook on High for 4-5 hours or Low for 8-10 hours. Serve with mashed potatoes.
Ingredients:
4 teaspoons olive oil divided

½ medium onion roughly chopped

3 cloves garlic pressed

1 ½ cups low sodium fat-free beef broth

2 tablespoons tomato paste

6 medium Carrots sliced thick

6 cups baby potatoes skins on

sea salt

corn starch, or thickener of your choice

1 tablespoon Worcestershire sauce, optional
Instructions:
Trim all the fat from the chuck roast steak, then sprinkle salt on each side. Set Instant Pot to sauté and wait until the screen reads "hot." Add 2 tsp of the olive oil and sear meat on both sides. Remove roast from pot.

Add remaining 2 tsp olive oil to the Instant Pot and add onions and garlic. Sauté for a few minutes until fragrant, then deglaze with broth, tomato paste, and Worcestershire sauce and stir well. Get all those brown bits up from the bottom of the pot to flavor your meat and veggies and make a killer gravy!

Add the roast back to Instant Pot, along with potatoes. Place carrots in a steamer basket on top of meat and potatoes. Lock lid and set for 60 minutes.

After cooking time, do a natural release. It took my pot about 15 minutes to release all the pressure. If you are hangry or impatient, you could switch it over to quick release any time after this point and you should be good. Remove roast & veggies from the Instant Pot and serve.
To make gravy
Easy Top Round Roast Beef Recipe
Photo credit: Wine and Glue
Servings: 6
Prep Time: 5 Minutes
Cook Time: 1 Hour
Ingredients:
3 pounds

Oak Barn Beef roast

1 tablespoon extra-virgin olive oil

1 tablespoon kosher salt

2 teaspoons black pepper

2 cloves fresh garlic minced

2 tablespoons fresh parsley minced (optional)

caramelized onions for serving (optional)
Instructions:
Preheat your oven to 450 degrees.  Fit a rack in a roasting pan and set aside.
Remove from the oven, loosely tent with foil, and allow the roast to rest for 10 minutes.  Slice thin, and enjoy.  See post for details about reheating and left-over ideas.
Notes:
Cooking the roast at a high temperature initially and then reducing the heat gives it a great sear on the outside and lends to the perfect tender roast.  Please keep in mind that the size of your roast with greatly affect how long it needs to cook, with meat over 3 pounds needing more time and meat under 3 pounds needing less. For this reason, it's great to use a thermometer and start checking it around 45 minutes.
Photo Credit: EatWell101 
Servings: 6-8
Prep Time: 10 minutes
Cook Time: 75 minutes
Ingredients: 
6 pounds

Oak Barn Beef top sirloin

1 cup butter, softened

5 cloves garlic, minced

1 sprig fresh sage

1 sprig fresh rosemary

2 medium red onions, quartered

Salt and fresh cracked pepper

Fresh chopped parsley, for garnish
Instructions:
Remove the sirloin roast from the refrigerator for at least 30 minutes to bring it to room temperature. Preheat your oven to 450ºF (230ºC).

In a food processor, mix butter, garlic, sage, rosemary, 1/2 red onion, salt, and pepper. Rub all of the compound butter on the outside of the beef and place in a roasting pan or cast-iron skillet, surrounded with red onion quarters.

Roast for 15 minutes and lower the temperature to 325ºF (160ºC). Roast until it reaches an internal temperature of 135ºF(60ºC) for medium-rare meat, approx. 45 minutes to 1 hour or more, it depends on the size of your roast.

Remove from the oven and let Garlic Butter Herb Beef Roast rest with foil for at least 20 minutes before slicing to let the juices reflow through the meat. Slice and serve along with the roasted red onions, garnished with fresh parsley and lemon slices. Enjoy!
Photo credit: Copycat recipes
Servings: 10
Prep Time: 10 minutes
Cook Time: 1 hour 20 minutes
Ingredients: 
Instructions:
To prepare the meat remove from the refrigerator 60 minutes before cooking. This will give the roast a chance to reach room temperature. 

Preheat oven to 325 degrees. If the roast is very lean you may want to drizzle a tablespoon of olive oil or two over the roast. 

Sprinkle salt and pepper over the roast.

Place the roast on a wire rack on a baking sheet. 

Bake the roast for approximately 25 to 30 minutes for every pound of meat for a roast to be cooked to medium. 

Adjust accordingly for your preferred level of doneness. You should use a meat thermometer to determine when the roast is done. Push the meat thermometer all of the way into the center of the roast. Pull the roast from the oven when the inside temperature of the roast is about 10 degrees less than your desired level of doneness. The temperature of the roast may rise while the roast is cooking. Let the roast rest for at least 15 minutes, tented in aluminum foil to keep warm, before carving to serve.

Rare : 120 - 130 degrees - bright purple red, tender, juicy

Medium Rare: 130-135 degrees - bright red, warm, tender very juicy

Medium: 135 -145 degrees - rich pink, slightly juicy

Medium well: 145 - 155 degrees - tan with slight pink, firm, slight juice

Well Done: 155 and above - tan to brown, very little juice, meat can become tough

So if you want a medium rare roast remove it from the oven when the internal temperature reaches 120, it will rest for 15 minutes. The internal temperature will rise while the meat is resting.
It is always best to use a meat thermometer if you have one to ensure you cook the roast to your desired level of doneness.
PLEASE NOTE: The cooking time depends on the size of your roast.
And there you have it! Five recipes to set you on your way to tantalize your taste buds and filling your belly with the best Nebraska Raised, Dry Aged Beef. Purchase the best dry aged beef now

here

.
Leave a comment