Dry Aged Beef Brisket - Oven Barbecued Beef Brisket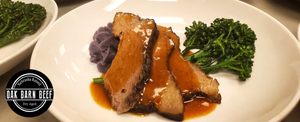 Will you be needing to feed a crowd soon? Consider tantalizing your guests taste buds with a tender Nebraska raised, dry aged beef brisket, from Oak Barn beef!
Dry Aged Beef Briskets are known for tasting amazing when cooked low and slow. We are talking fall apart in your mouth, juicy, mouthwatering flavor. Our brisket is perfect for smoking, braising or slow cooking for any group of hungry folks.
And below is a recipe that complement this cut to a tee.
Cooks Illustrated (via Spicy Southern Kitchen) Oven Barbecued Beef Brisket
Photo credit: Spicy Southern Kitchen
Prep Time: 20 minutes
Cook Time: 5 hours
Total Time: 5 hours 20 minutes
Servings: 8 
Ingredients:
Rub
1 1/2 tablespoons packed light brown sugar

1 1/2 tablespoons paprika

2 teaspoons dry mustard

2 teaspoons ground black pepper

2 teaspoons salt

1 teaspoon onion powder

1 teaspoon garlic powder

1 teaspoon ground cumin

1/4 teaspoon cayenne pepper
Brisket
Sauce
Reserved bacon from cooked brisket

1 onion, finely chopped

1/2 cup cider vinegar

1/3 cup packed dark brown sugar

1-2 cups chicken broth

1/2 cup ketchup

4 teaspoons canned chipotle peppers in adobo sauce, minced
Instructions:
Make the rub. Mix all ingredients well in a small bowl and set aside.

Place oven rack in upper-middle position and heat oven to 275 degrees. Rub dry rub all over brisket and poke holes all over with a fork. Place half of bacon going crosswise in a broiler safe  9 by 13-inch pan (it's best not to use glass). Put brisket fat side down on top of bacon. Lay the rest of the bacon crosswise on top of brisket, wrapping it down around the sides, and tucking any excess under. Cover the pan with foil and place it in the oven for 4 hours.

Take the pan out of the oven. Carefully flip brisket over, fat side up. Replace foil and return to the oven. Turn off heat and leave the brisket in the oven for 1 additional hour.

Pour accumulated juices from the brisket into a large measuring cup or a bowl. Remove bacon from brisket and chop into pieces. Cook bacon in medium saucepan over medium heat for about 5 minutes, until fat has rendered. Add onion and cook until softened, 4-5 minutes. Take off heat and add vinegar and dark brown sugar. Return to heat and simmer until reduced to a syrupy consistency, about 5 minutes.

Skim fat from accumulated juices and add chicken broth to make a total of 3 cups. Add the mixture in saucepan and reduce until about 3 cups in volume, 8-10 minutes. Take off heat and add ketchup. Mix well and strain if desired. (I like to strain about half the solid pieces out and leave the rest). After straining, add chipotle peppers.

Turn the oven to broil. Brush brisket with 1 cup sauce and broil until top is lightly browned and fat starts to crisp. Cut brisket against the grain into 1/4-inch slices and serve with extra sauce.
Head over to our site now to place your order for the perfect dry aged, Nebraska raised, beef brisket!
Oak Barn Beef Brisket
Leave a comment