The First 'Friday On The Farm' of 2022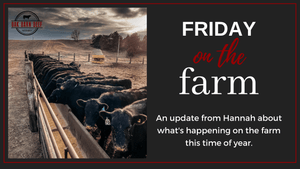 Welcome to the first 'Friday On The Farm' of 2022. This is an update from Hannah about things that are happening on our farm and local farms in our area during this time of year. This update goes to our email subscribers inboxes first.
At Oak Barn Beef, we got new calves last month. We purchase cattle from Hannah's parent's cattle operation and from one other producer in Nebraska. All cattle that transition into Oak Barn Beef's program have to meet criteria for their genetics, location, and animal welfare. The cattle in the photo above are some of the most recent additions. We hand-bucket feed them every night and let them out to graze cornstalks and cover crops during the day. They also have free choice hay.
Cornstalks is an industry term for a cornfield that was harvested this past fall. The cattle graze any corn that was dropped in the harvest process, and they also eat the leftover plant that was not harvested in the fall - like the stalk and the husks.
Most farms also use cover crops - this is a crop planted after harvest that helps the soil keep its nutrients. The cover crop that our cattle are grazing is rye, but people also plant sorghum, turnips, and many other crops. The planting of cover crops is a newer practice that farmers are implementing to increase soil health and improve sustainability on their farms.
For a lot of people, calving season is right around the corner. We don't personally own any cows yet, but my parents do! It's one of my favorite seasons and the newborn cattle are adorable!
There's always catch-up work to do in the shops on cold days and plenty of maintenance to do on the warm days in the winter.
We hope you enjoyed the first 'Friday On The Farm' of 2022. Please feel free to reply to this email if you enjoyed this content!
Wishing you all the best,
Hannah
Owner of Oak Barn Beef
Our Email Subscribers get these updates to their inbox once each month. Want to subscribe? Click here!
Leave a comment