Exciting News! We just made this big move for Oak Barn Beef...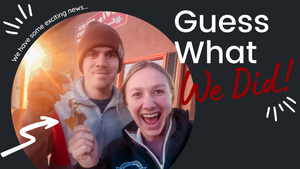 We did something really big and scary last week... After a lot of thought and consideration of whether it makes sense for our business, Eric and I pulled the trigger and we did it...
We bought a building!
This building will be the new headquarters for Oak Barn Beef's storage and distribution, but the most exciting news is that we are also planning to open a storefront!
It is right off of a main road in West Point, Nebraska, and we hope to expand our offerings to allow people to pick up beef, shop other farm products, and make it a destination if you happen to be in the area.
We have a lot of work to do... The building is not ready to operate as our headquarters quite yet, and we have a lot to learn about operating a storefront, but we wanted to let you know about this exciting next step in Oak Barn Beef's journey.
Would you be interested in following along with our progress? I am considering sharing our journey on Oak Barn Beef's blog, but I want to make sure there is enough interest. Please comment on this blog with 'Yes' if you want to follow along!
You might be asking if this will change anything about your experience with Oak Barn Beef... We hope so!
With a larger storage and distribution area, we hope to improve our shipping practices and serve our customers better.
For local customers, we are excited to be able to eventually offer store pick-up, open shopping hours, and all other experiences that we will curate while we gain experience in this space. We have a lot of work to do on this front before we can offer an in-person experience, but it is a goal for 2022!
Thank You To Our Customers!
None of this would be possible without your support, and you have blown us away with all the support and love you've given to Oak Barn Beef over the past three years. Thank you for supporting our small business of selling premium, Nebraska beef!!
21 Responses
Leave a comment