Construction Central: New OBB Headquarters Update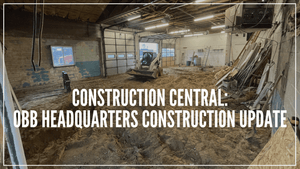 We've been busy working on the new building that we are converting to be Oak Barn Beef's new headquarters. (If you didn't see the original post, click here to read that).
 The construction plans have developed a lot since that first announcement, and we are in the beginning stages of the remodel. The building used to house an auto mechanic shop and used car sales office.
After renovation, the building will have:
A walk-in freezer (about 3x the size of our current one!)
A large area for shipping boxes and storing supplies
A small retail storefront
An office (I am very excited for this one! It will be different to have an office outside of my home).
Part 1: Freezer & Distribution Space
There were two offices on opposite sides of the building. One side will be where we build the walk-in freezer. This past weekend, we took down a wall and all the concrete on the floor and we will pour new concrete. The older concrete was very stained and sloped into drains due to it operating as a mechanic shop prior, and we wouldn't have been able to run a forklift over it like we plan to, so we are starting fresh!
We also took out the false ceiling to expose a very neat arched ceiling above the soon-to-be distribution area. It gives the building a really cool feel!
The building is now ready for us to start over. The next steps will include insulating the floor for the freezer. Concrete floors will crack in freezers, so Eric has been doing a lot of research on how we can properly insulate it to avoid that. Then, we will pour concrete in the building, and in a small part of the office/storefront.
Part 2: Office and Storefront
The office and storefront are both something I am very excited about! We can't wait to welcome customers in and turn picking up your beef from Oak Barn Beef into a whole experience!
The retail storefront concept is still being developed, but we are looking for other 'farm store' type products from vendors – if you know of one, please let me know! 
Construction in this portion of the building really hasn't started yet, but I've started developing design ideas and want to share these neat examples with you. I found the store Under A Tin Roof while researching and fell in love with what they are doing! I want to go visit this summer.
The office won't be anything special, but I can't tell you how excited I am to get to leave my house to go to an office! Don't get me wrong, I do enjoy working from home, but being able to have a dedicated office place that is close to the inventory/operations will be a big change!
Coming Summer 2022...
We don't have any definite dates yet, but are planning to open the storefront this Summer and I am gung-ho on having a Grand Opening! I will keep you all in the loop for that. 
Thanks for following our journey, and to our customers and supporters, thank you for making our dreams come true with all your support of these two crazy entrepreneurs!
All the best,
Hannah & Eric
1 Response
Leave a comment