Quick and Easy Ground Beef Dinners | Oak Barn Beef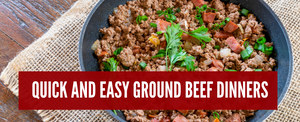 Quick and Easy Ground Beef Dinners
We may be vastly different, but we have one uniting thread: we all gotta eat. There is a certain chaos that can creep into our lives every day around 4:30 pm, as we start thinking about heading home or wrapping up work for the day. Our brains are wracked with the ultimate question: what's for supper? If you didn't meal prep or plan, you may be starting to panic and begin making fast food contingency plans. Luckily, if you've got a pound of ground beef in your freezer, we've got a solution for you.
Ground beef: the ultimate in versatility
Ground beef is the epitome of versatility. Hear us out: it's the reliable friend in your freezer you know you can count on at the last minute, while also being the loud, life-of-the-party friend who seems capable of bringing joy in even the most mundane situations. It can be thawed and cooked quickly, browned, pattied, balled, or loafed and seasoned in countless ways. Whether you're craving comfort food or a dish with an ethnic twist, ground beef is a solid option.
The best news? When you subscribe to our Backyard Griller ground beef package, you can be sure your freezer is always stocked! Our premium ground beef is raised on our family farm where we go the extra mile to make sure it's the best you'll ever eat.
Sloppy joes
Let's go ahead and get the obvious one out of the way right away: sloppy joes are an excellent dinner option if you're short on time and desperate for a crowd-pleaser. It's as simple as thawing the meat, adding the sauce, and prepping any side dishes you want with it. If you don't happen to have premade sloppy joe sauce on hand, whipping up your own is simple with these kitchen staples:
Ketchup or tomato sauce
Mustard
Brown sugar
You don't need to follow an exact recipe, but you'll want your sauce to be predominantly ketchup or tomato sauce. The portions of mustard and brown sugar should be close to equal and should account for about ⅓ of the overall sauce. You can tweak it until you get it just right, and consider adding garlic, onion powder, chili powder, or a dash of cayenne pepper for an extra kick.
One pot spaghetti
When it comes to a dish that does it all, it's hard to beat spaghetti… it's even better when you only have to dirty one pot. Yes, you read that right—spaghetti night just got a whole lot simpler!
1lb ground beef
24 oz spaghetti sauce
2½ cups water or beef broth
8 oz spaghetti noodles
Brown one pound of ground beef in a large stock pot. Once the meat is cooked thoroughly, add the spaghetti sauce and water or beef broth. Bring it to a boil. Feel free to add anything additional you may want to incorporate at this point; chopped onions or diced carrots, fresh basil, oregano, etc. Add spaghetti noodles, cover, and cook, stirring occasionally until noodles are fully cooked. If your spaghetti is too watery, remove the lid to allow more fluid to evaporate, stirring frequently.
Tacos and nachos
Who doesn't love taco night?! Seasoning your beef with a little bit of southwestern flair leaves the door open for tacos, taco salads, nachos, ground beef fajitas, taco soup, burritos… the list is nearly limitless. It's as simple as browning your beef, adding taco seasoning, and letting your family construct their own savory dishes. If you don't happen to have taco seasoning in your pantry, you can whip up some with these spices:
5 tsp Paprika
1 tsp Chili powder
1¼ tsp Ground cumin
1¼ tsp Garlic powder
1¼ tsp Onion powder
1 tsp Oregano
1½ tsp Salt
1 tsp Pepper
Cayenne Pepper (optional, for an additional kick)
Chili
Here in the Midwest, nothing screams "comfort food" like a bowl full of chili with a sweet cinnamon roll side. A dish best reserved for a cold night, chili is often as unique as the person making it— no two pots are the same! To create your own custom chili, we suggest starting with the basics: ground beef, tomato sauce, and chili beans. From here, you can determine which direction you want your chili to lean. Some people like large chunks of stewed tomatoes, while others prefer to stick with diced tomatoes. Peppers and onions are a pretty common addition, but there's no reason to stop there with the vegetables. Consider adding chopped carrots, spinach, or even corn for an additional nutrition boost.
Beefy mac and cheese
Now, we're not saying this childhood classic needs to be messed with, but we can probably all agree that upping the protein would help it feel like a more balanced meal. For a grown-up spin on a childhood classic, try adding ground beef to your mac and cheese! Simply brown your beef, season (if desired), and mix it into your favorite mac and cheese recipe (or boxed mac and cheese… we're not judging!).
Create your signature beef dish
If you're feeling stuck in a rut and you want to try something new (or just clean out the fridge and cupboards), you could try creating your own signature beef dish! Ground beef is so versatile, you just about can't go wrong. If you want to create your own signature ground beef masterpiece, follow this simple formula:
1lb ground beef: browned and seasoned according to your desired flavor profile
Filler: think vegetables, grains, or starches. This will bulk up your meal and add texture and interest. Rice, lentils, potatoes, beans, cabbage, broccoli… get creative!
Vehicle: How will your dish be eaten? On a bun? In a tortilla? Scooped with a chip or a spoon?
The great thing about our ground beef is that it tastes good on its own or it can make a terrific backdrop to some other flavors you might want to showcase. Your meal could be as simple as spiced ground beef with a side of broccoli, or as involved as an entire casserole.
Skip the grocery store and keep your freezer stocked! We offer a ground beef subscription service that ships quality, homegrown ground beef directly to your door every month. If variety is what you're seeking, you can explore our other beef subscription options here. Our beef is DNA-tested to ensure that only the highest quality cuts make it to your plate, and dry aged for premium flavor and texture. One bite is all it will take to taste the difference.
To learn more about our family-owned beef operation, you can visit us at www.OakBarnBeef.com or stop in and see us at 706 S. Lincoln St. in West Point, Nebraska.
Leave a comment