How to Make Sous Vide T Bone Steak (Seared In a Cast Iron) by Sip Bite Go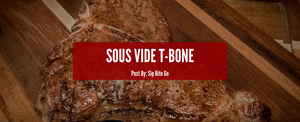 Sip Bite Go shared a blog post about how to Sous Vide a Oak Barn Beef T-Bone Steak. Click here to see the original post by Sip Bite Go.
Holy Moly. This recipe for sous vide T Bone steak finished in a cast iron pan is ridiculously easy to make. Once you learn how to sous vide T Bone Steak, I doubt you'll cook it any other way. The inside turns out a perfect medium. It's tender and juicy. The outside crust is drenched in garlic butter and seared in a cast iron pan to achieve the perfect "bark".  And all you need is a couple of ingredients and the perfect sous vide time and temperature for T Bone steak. You can also finish this recipe on the grill. So go ahead and sharpen those steak knives… let's get cooking! 
Special thanks to Oak Barn Beef for sending me this handsome cut of meat as part of their delivery box this month   How To Sous Vide Brisket
Why this sous vide T bone steak recipe is a winner
Such a beautiful cut of meat deserves special treatment. Yes, there are other methods to preparing steak – grilling, pan-frying, oven baking, etc. So many people ask if steak made sous vide is better than grilling or any of these other methods – and I believe 100% YES.
Especially for people who don't have much experience cooking steak. It is a completely fool-proof way to cook steak evenly. It's very difficult to overcook sous vide steak.
In this recipe, you'll learn how long to sous vide T bone steak for a perfect medium-rare to medium. 
The beauty of this recipe is that you can finish it in a cast iron pan to different temperatures. But you only have to actively be with the steak for a few minutes.  
Ingredients for T bone steak sous vide style
You can use any T bone up to 2.5" thick for this recipe.
Pictured in this is a 1.25″ thick T Bone steak from Oak Barn Beef. They ship gorgeous cuts of beef from Nebraska to your doorstep.
Their beef is dry aged for 21 days, just like you'd expect from a high-end steakhouse. They even obsess over premium DNA testing! Have you ever heard of such a thing? It's pretty amazing how much they care about quality.
Did you know? T bone steak has two popular cuts in it: the filet tenderloin and NY Strip.
Can you sous vide frozen t bone steak?
Yes, add 60 minutes to the sous vide bath time to cook T bone steak from frozen.
This is a great option if you want to buy a bunch of steaks in advance. Season the steaks prior to vacuum sealing and freezing so it's easy to pull them out and cook them. 
Get your vacuum sealing technique down with this guide on how to vacuum seal meat. For a step by step video, check out my Foodsaver 4400 vacuum sealer video.
Set the sous vide machine to 130 degrees. I made this recipe with my Anova.
Pat the T bone steak dry and season it salt. Top it with shallots and cilantro, then vacuum seal it. 
If you are sous viding multiple T bones, vacuum seal them in separate bags (since they are so big). If you vacuum seal them in the same bag, make sure they aren't touching. 
How long do you sous vide T bone steak?
Sous vide the T bone at 130 degrees for 2.5 hours for medium-rare to medium.
In the following steps you can finish the steak to desired temperature in the cast iron pan. I like this method to prevent overcooking the steak.
Scroll to the bottom of this post for a time and temperature chart for sous vide steak.
Leave a comment