5 Easy Recipes For Busy School Nights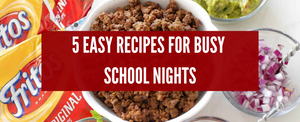 Wow! I don't about you, but this summer has flown by. I can't believe that its already time to head back to school. After being in a summer groove though, it can be hard to get back into the groove of school nights. To make this easier, we've rounded up five easy recipes that your family will love. Check out these perfect for weeknight meals when you're looking for something quick, but delicious. 
From All Recipes - This beef stir fry takes a total of 25 minutes and is sure to be a hit after your kiddos get home from school. The best thing is you can make it with Flank Steak, Sirloin Steak, Skirt Steak, or Denver Steak.
From Add A Pinch - These steak fajitas look so good. I always love finding new ways to spice up my fajitas, so feel free to add your own spin to the recipe!
Shop Oak Barn Beef Fajita Meat Here!
From The Girl Who Ate Everything - I mean cmon who doesn't love a good walking taco. Its definitely a summer staple, but just because school has started up again, doesn't mean we can't still have some summer fun. 
Shop Oak Barn Beef Ground Beef Here!
From Delish - This Recipe takes a little longer than others, but it looked too good not to share. Total time this recipe takes you an hour, but if you wanted to really spice up your weeknight dinner, I think this will be a great one to try. 
Shop Oak Barn Beef Boneless Ribeyes Here!
From Beef Loving Texans - This Beefy Sweet Potato Hash looked really good and interesting so I had to include it! I also think that its great that you can use this recipe to spice up some leftovers or just to make on its own. It's definitely one I'll be trying!
Shop Oak Barn Beef Individual Cuts Here!
I'm super excited to try this mix of classic and new recipes for myself. If you have a go-to easy weeknight meal, send them our way and we'd love to try them. Happy Back To School!
Leave a comment