Why Should I Buy Directly from Farmers?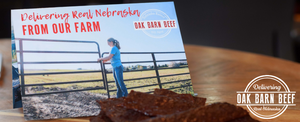 With almost 2 million farms in the USA and about 80% of these being small farms and being family owned, there's no better reason for you to buy directly from these farmers. Farmers, like us here at Oak Barn Beef, have been doing this for years. We are family owned and this type of farming has been in our family for over 5 generations now. We take pride in how we raise and produce cattle and take many steps to even make sure our beef is the best dry aged beef you'll taste.
Over the last few years buying directly from farmers has become more popular and I think it's due to a few of the reasons I wanted to share with you today! Here are the very many reasons you should buy directly from farmers:
Eating local is good for the economy! Supporting a local business puts your dollars directly into the hands of families and businesses in your community. This keeps your local economy growing and thriving.
If you are in the Nebraska area, you are able to buy beef from Oak Barn Beef for your family and you are doing this to keep your economy going. I enjoy supporting other local businesses in the Nebraska area- It's what keeps them in business and continues to help them provide valuable products and services for our area. Even if you are not in the Nebraska (local) area, you are still supporting a family owned farm that needs your support and you are keeping us going and thriving. We love to see our beef shipped all over the country to consumers that want to purchase directly from farmers versus purchasing beef at the grocery store.
You can "get to know" where your food is coming from. Often times, buying directly from farmers grants you the opportunity to see where your food is coming from and how it is raised.
Whether you are in the Nebraska area or not, you can see this firsthand as we share all the behind the scenes and information about Oak Barn Beef on our social media pages. If you go to our Facebook or Instagram page (we share our things on Pinterest too!) you can watch our stories every week and are able to see more of the behind the scenes. We also share posts about our farm, our dry aged beef, and more every week! To check out our pages you can click below:
Another great way to keep up with us and to see more about our operations and get to know me and my family is to check out our blog posts. You can see all the blog by clicking here.
Your carbon footprint is reduced. Food purchased commercially often travels many miles before it arrives to the store, And then finally to you. Buying from nearby allows you to reduce emissions from travel time. Most of our food has to travel on average 1,500 miles to get on our plate. All of the shipping (whether it's domestic or international) uses a lot of natural resources like fuels and can contribute to pollution. Conventional farmers also use more resources to sustain their agriculture which can also lead to the carbon footprint. When you buy from local farmers you are cutting down the transportation footprint and usually the methods used minimize the impact it has here on earth.
Here at Oak Barn Beef, we have local pickup times where our locals in the Omaha, Lincoln, and Syracuse area can pick up their beef to help cut down the transportation effect on the environment. We also ship all our beef to people outside the local area in a shipping box with a biodegradable insulator. This biodegradable insulator keeps your meet nice and cold but without hurting the environment. It's a much better option than styrofoam that takes millions of years to biodegrade. We make sure we take all the steps to ensure that we are making as little of an impact on the environment as possible.
3. The taste! Locally raised foods just taste better. It's fresher. It's not had to travel and be stored for a longer period of time, leaving the fresh, wholesome taste for you to enjoy.

Yes! My favorite part…. the taste! I love local produce versus produce in the store. Have you ever purchased fruit and veggies from local farmers? The taste is so different and amazing! Fruits especially are able to fully ripen in their fields before being brought to farmers market or to the local consumer and the taste is so much better! 
At Oak Barn Beef we take pride in the best dry aged beef taste! Our beef is DNA tested which lets us know which cattle will have the best marbling and tenderness gene. This guarantees you get the best of the best! Our beef is then dry aged for 21 days for premium flavor. Our beef is able to mature where natural enzymes help break down the beef to provide a tender, delicious cut of beef! This type of dry aged beef is usually found at high end restaurants, but we can offer it come straight to your table! Oak Barn Beef is going to have a much different and better taste. Even if you have it shipped, all our beef is packaged in a way that it will guarantee it's delicious taste. Our beef is all vacuum sealed directly from our butcher so you will still get that fresh flavor even if we ship it to your doorstep.
I hope all of these reasons really help you to see how important it is to buy directly from farmers. The economy, knowing where your food is from, lower the carbon footprint, and the taste are a few yet major reasons why buying from farmers directly is so needed! I would love the chance to be able to provide the best dry aged beef to your household that takes pride in providing these reasons for you so if you are interested please take a look on our website at all our offerings. We have a monthly beef subscription plan, bundle boxes, individual cuts, beef jerky, apparel, and more that you can choose from. Once you taste our dry aged beef, I think you'll be hooked on supporting this farmer directly!
Leave a comment