Why beef may be the answer to your diet...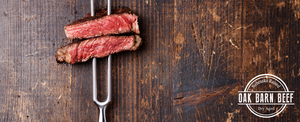 Just a few generations ago, our grandparents considered beef as a healthy and nutritious food. Today however, many like to debate that fact. More often than not, opinions are split on whether red meat really is good for you or not.  With so many opting for and promoting a plant based, meat free diet, the fact that beef is a nutritional powerhouse, is overlooked way too often.
Let's take a look at what makes beef so awesome for our bodies.  
Protein
Beef is chock full of protein.
And we all need to ensure we get enough protein in our daily diet. As protein is what our body uses to daily make and repair skin, bones, and cartilage.  
The "Master Antioxidant" Glutathione
One of the nutrients beef contains is, The "Master Antioxidant" Glutathione. 
Glutathione helps protect most cells in our bodies, linking it to preventing illness, reducing the risk of chronic disease, and strengthening the immune system.
While our bodies do produce glutathione by using precursors such as the amino acids cysteine, glutamate, and glycine, beef provides a high source of complete and preformed dietary glutathione.
Minerals
Beef is nutritionally dense in minerals. 
It contains essential minerals such as calcium, copper, iron, magnesium, manganese, potassium, phosphorus, selenium, and zinc. And just one serving of beef contains more than half the days recommend amounts of selenium and zinc.
Vitamins
Beef is a powerhouse of vitamins as well. 
Beef contains Vitamin B12, B3, B6, B2, and B5. With B12 being an essential nutrient and found only available from animal foods. Deficiencies in this vitamin has been linked to depression and other mental illness.
Creatine
Another health benefit to beef is naturally occurring creatine. Creatine provides your muscles with greater energy supply, growth and development.
Beef. It contains so many health benefits and knowing that is enough reason to not cut it out of my diet.
So, don't go short in nutrients, grab some Nebraska raised and dry aged Oak Barn Beef! Our beef not only has the nutrients your body needs but it also comes with amazing flavor and tenderness that will have you wanting more. Shop here now!
All this talk of the benefits of beef has wanting to fire up the grill (even in the winter!) and grilling. Who else agrees?
1 Response
Leave a comment