September OBB Headquarters Update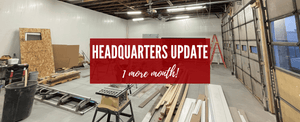 Oak Barn Beef Headquarters Update:
You all have been asking us for an update on the new Oak Barn Beef Headquarters! The freezer/distribution area, office, and retail front are all coming along.
While we were hoping for a 'soft opening' in September, we made the decision to hold off until we get the freezer completed, so we can sell frozen beef out of the location too.
The freezer and distribution area is predicted to be finished in about a month, and we are so excited! This has been a HUGE construction project, and I think everyone is a little burnt out and ready for a construction break after it is finished up. The main team of construction workers has consisted of Eric (who works full-time during the day) and his talented dad and uncles who give a hand when they can. It wouldn't have gotten very far without them!
We hope to have everything moved by October 15th, and I look forward to being able to operate out of the new headquarters in under a month! While we could open the retail front on October 15th, with our baby due November 3rd, we are going to hold off on opening the store until December. This has been a difficult decision, but we want to ensure we are serving our current customers the best we can during this already chaotic season of our lives.
With all that being said, if you are in the West Point, Nebraska area and want to pick up beef from us, please feel free to email or call us to coordinate a meeting time! We will still try to serve you the best we can.
Better Photos to Come In The Next Month!
Storefront/Office Space Progression:
Distribution Space Progression:
Leave a comment