Celebrate Your Holiday with Prime Rib Roast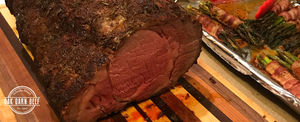 Prime rib roast. It lives up to its name as being a prime cut of beef. Prime rib, also known as a standing rib roast, is a cut of meat taken from the back of the upper ribs of the cow. The prime rib section typically takes up about 7 ribs. Prime rib is a pricier cut of meat which makes it great for special occasions and holidays.
Today I am sharing a simple way to prepare this cut. It is sure to wow your family and friends for your Holiday celebrations.
Tastes Better From Scratch, Easy, No Fuss Prime Rib
Picture from: Tastes Better From Scratch
Ingredients:
5 Pounds Prime Rib (or larger* if larger, double the spices/seasonings)
Sea Salt
2 Teaspoons Freshly Ground Black Pepper
2 Teaspoons Fresh Rosemary
1 Teaspoon Fresh Thyme
8 Cloves Garlic, Minced
1/4 Cup Olive Oil
Horseradish, For Serving (optional)
Instructions:
Remove your prime rib from the refrigerator one hour before cooking. Season it on all sides with salt and cover it loosely with plastic wrap as it comes to room temperature. Prime rib roast will cook better and more evenly when it's at room temperature. 
When you are ready to cook the prime rib, lower/adjust your oven rack so the meat will cook in the center of the oven. Preheat the oven to 500 degrees F.
In the meantime, mix together 1 1/2 teaspoons salt, pepper, rosemary, thyme, garlic, and olive oil.
Pat the roast with paper towels. Spoon seasoning over it, rubbing it onto all sides.  Place bone-in roast with the bones down, inside a roasting pan cast iron pan. Place a boneless roast on a rack inside the pan.
Bake prime rib at 500 degrees for 15 minutes, then reduce the oven temperature to 325 degrees and continue baking until desired doneness: 
Roast your prime rib until the thermometer registers:
Rare: Cook until thermometer reaches 115-120 degrees F (about 10-12 min/pound)
Medium rare: Cook until thermometer reaches 125-130 degrees F (about 13-14 min/pound)
Medium: Cook until thermometer reaches 135-140 degrees F (about 14-15 min/pound)
Medium well – Cook until thermometer reaches 145-150 degrees F
*Keep in mind that the meat temperature can continue to rise 5-10 degrees while it's resting out of the oven, so do not overcook!
Picture from: Tastes Better From Scratch
This will make an excellent Easter dinner and would be great paired with some homemade mashed potatoes and a side of green vegetables of some sort.
If you're interested in a prime rib from Oak Barn Beef, contact us to see if a special order is available for this item!
Leave a comment