Shipping Day with Hannah - Mail Order Steaks and their packaging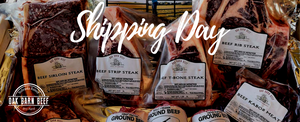 HI! My name is Hannah and I am the owner of Oak Barn Beef. 
I said this last time, but my goal in April is to do 1 YouTube video/IGTV a week. So this week I decided to do a little bit of the background on how shipping day looks and how we ship our family farms beef directly to consumers across United States!
To give you a little background we ship once a week on Mondays - to ensure that the product doesn't sit over the weekend and get stuck at UPS. It can potentially thaw, so we try to avoid the weekends at all costs. We use some:
Dry Ice
Insulated Coolers
And more to help keep the beef in great condition until it reaches you!
 So far today we went to go and get dry ice. "FRAN!" and I went this morning. It's about an hour drive and they put it in our colors for us which is really nice and and these bags and then we weigh and put it into our big boxes! 
OK so now that we got the dry ice separated by weights. It depends on how long it takes to get there is how much dry ice we put in the box. So we break it up by those times and then I put them in a paper bag. 
I'll show you that even though, it's pretty simple. We separate them so it protects the beef and keeps it more insulated which decreases sublimation.
Then we stick a sticker on it that says "Dry Ice - handle with care and do not put into a sink or garbage and let it sublimate just outside in an open air." 
That's just directions with dry ice because it can be dangerous if you don't know how to do it, so we try to make sure our customers don't get hurt or harmed by any of these! Then it's just like this in the box.
The next thing we do is sticker all of our boxes make sure the perishable is known that they need to unpack into their freezer right away and that UPS knows this is perishable too. We put labels on and put a little letter in here with a handwritten note and return your box labels. 
This is what one of our boxes looks like packed so I try to spread it out equally and make it as tight as possible so it doesn't slide around in there. And so the meat still has contact with the dry ice. I will be taping these after one more box.
Then I head to Lincoln Nebraska from the farm to drop them off at UPS. Since I'm a student at UNL and I normally have classes to return to Lincoln for. Because of COVID-19, it's actually all online now, but I'm used to going back to Lincoln and taking them in!
I load up all the boxes and then drop him off at a UPS location there and then they go out tonight almost immediately so it's pretty cool!
This map shows how long it takes to get to the destination so depending on the state that's how long it will take to get to you so we ship on Monday and then you know when to expect your package.
We are lucky enough that our customers share with us when they get their delivery. This is @grilling24x7 on Twitter. He just got their box recently and he attached some pictures of what it looks like.
He said it was still extremely frozen when it got there. He is from Maryland, so it took 4 days to get there. The dry ice sublimates, which makes a little more room in the box but he is super excited to grill up the brisket and he smoked it. I'll show you pictures of that too! 
Thanks for following along on what a normal shipping day looks like at Oak Barn Beef and learning more about the product arrival if you are interested in shopping our beef please go to oakbarnbeef.com where we sell our family farms premium beef!
Leave a comment