Nebraska Beef is Scientifically Proven to be the Best Beef!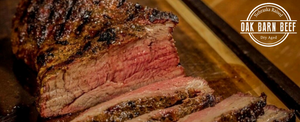 Have you heard the rumor? Actually, it's not a rumor, but a fact. Nebraska raised beef tastes the best! But why, you may ask? Several reasons to note!
Nebraska's location provides expansive and diverse natural resources, making it virtually perfect for agriculture usage. Through growing crops, processing plants, feedlots, ninety-one percent of the land in Nebraska is being utilized by farms and ranches. There are 19,000 cattle ranches in Nebraska too! A lot of these cattle ranches are handed down in families, from generation to generation and are owned and operated by the families themselves. 
Ranchers in Nebraska typically make sure their cattle spend the majority of their lives on grass such as what we do here at Oak Barn Beef. Our cattle spend the majority of their life kicking up their heels in green pastures on the farm and will continue to do so until they reach adolescence where we switch them to eating a corn diet with free choice hay for dessert. Around 60-90 days cattle will switch over to a feedlot to be "finished". On the feedlot they are fed a balanced ration of corn, grains, and vitamin and mineral supplements. 
Now go back to how I said Nebraska uses so much of its land for agriculture. 
Because Nebraska uses the majority of its land for growing crops, in particular corn, ranchers are able to easily access locally grown corn, and other grains. Which in turn contributes to a better flavor. Corn's abundance of protein, energy, and how easy corn is to digest in the stomach systems of cattle. Corn is able to provide the cattle all their nutrients and more to help deposit fat inside of their muscles (also known as marbling) and makes the beef more tender too! It makes tremendous beef through this process, and especially healthy cattle, which is what happens when you meet all nutritional requirements in a diet.
So, once the animal is finished with this change in diet, they are sent to be butchered at a local processing plant. Making the entire process of producing beef in one state.
The process has one additional step here at Oak Barn Beef though! Once our cattle are "finished", they go to a small-town butcher to be hand-cut and dry aged for 21 days. The extra step of dry aging helps the beef to become more tender and flavorful. This process on top of the green pasture grazing and corn finished diet, makes our beef the best tasting and most tender beef you'll bite into.
As you can see there are many reasons why Nebraska beef is the best tasting beef. Oak Barn Beef takes pride in raising cattle just mentioned like the reasons above and the taste of our beef has our customers coming back time and time again. Give it a try yourself and see why Nebraska raised beef is world renowned. 
Leave a comment