Moving to the "Summer Home"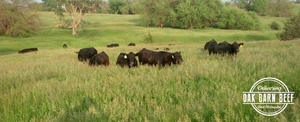 After a long winter behind us, spring is welcomed by every Nebraskan, Midwesterner, and anyone else who was personally victimized by the vicious weather we experienced. There were plenty of blizzards. There was a lot of mud. There was a lot of layering up with 25 layers for protection against the frigid cold. But, I don't want to dwell… Instead let's focus on the blessings spring has brought.
While we start calving (cows giving birth) in January, the new babies are thriving in the spring weather. Grass is growing. Calves are running around pastures, kicking up their heels because they feel that great! The calves are growing tremendously, too. They start at a weight around 80 pounds and weigh close to 300 pounds in May. 
In May, we trailered all cows to pastures that aren't by our home farm. We live in a predominantly farm land area, so our pastures are spread out across the county. In the winter, we bring all the cows home so we can assist in calving, if needed. But we don't have enough pasture and grass to sustain all of our cows year-round. This is why they are brought to their summer home (fancy, right?) when the grass is strong enough to support them.
We always say livestock producers (ranchers) are the original sustainability crew- we have to be careful to take the best care of our land to ensure that it is strong enough to take care of us. This is called rotational grazing.
What the process of moving to the summer home entails:
Bring all the cows from the pastures into our working arena.

Separate the cows and calves

If cows feel any stress, they flee. When a lot of them flee, they can hurt the calves, which is why we separate them

Ranchers are working to be very intentional to cause the least amount of stress as possible. There has been a lot of research done on low-stress animal handling which is being implemented across the livestock industry.

Worm all the cows

We administer a shot before they go to summer pasture to "worm" them (yes, like dogs) and protect them from flies. Flies can get really bad in the summer heat, as we all know. It's a convenience factor for the cows to not have to fight them all summer, and they burn less energy when they aren't fighting this nuisance.

Pair the cows and calves up to be trailered to their new home at the same time.

While we do ensure the cows and calves are taken at the same time, cows and calves have to be separated in the trailer. We load calves up first and then close a gate then load the cows in.

This helps protect the babies from getting squished on the way there!

Unload cattle into their new summer homes!

They will stay here until weaning time, which is on average 6 months of age of the calves.

We check the cows and calves about once a week in the summer.

We make sure the cattle have water, mineral, feed for the calves, and that they are all in good health. 

Here's a video from one of our checks this summer :D
Leave a comment