Elevate Your Charcuterie Game: The Art of Incorporating Beef on Your Charcuterie Board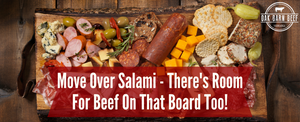 Charcuterie boards have become a crowd-pleasing staple at gatherings, and it's not hard to see why. From fruits and vegetables to nuts and cheeses, there's something for everyone. We love a good charcuterie board as much as the next person but we can't help but notice that they tend to be a little light on our favorite protein: beef.
We think it's time to think outside of the board with these fun new takes on the traditional charcuterie board.
Charcuterie Basics
The beauty of the charcuterie board is in the complete customization. There really are no rules to follow or break, but rather, a few guidelines that can help you put together a board that has something to offer for everyone.
Protein: Choose two to four different types of meat. A traditional charcuterie board leans heavily on cured meats like salami, pepperoni, and prosciutto. We have a great selection of summer sausage, beef sticks, and beef jerky that are sure to delight your beef-loving guests!
Grains (crackers/bread): When it comes to grains, it's nice to have a selection. Different types of bread and crackers add variety to your board, giving your guests options. A couple of different crackers and one or two types of bread will give your guests a great base for their snacks.
Cheese: Cheeses can get a little speedy, so choose wisely here. It's ideal to have at least two different kinds of cheese, but the more the better. When selecting your cheeses, opt for variety. You'll want a mixture of hard and soft cheeses.
Fruits, nuts, and vegetables: These are the filler for your board, but don't underestimate their importance! Fruit brings color and sweetness to your charcuterie board. Dried fruits such as raisins, dates, craisins, and dried bananas are easy to handle and less messy than other options. You can add any vegetables you like, but pickles and olives are especially popular. Cashews, peanuts, and almonds are all great charcuterie board nuts, but feel free to go, well… nuts.
Condiments: Ramekins filled with honey, butter, sauces, and other complimentary dips elevate your charcuterie board and give your guests more opportunities to customize their plates.
The Steak Charcuterie Board
When in doubt, you can never go wrong with steak! A steak charcuterie board is as customizable as any other board, allowing you to choose your favorite steak(s) to showcase along with your favorite finger-friendly sides. We suggest selecting two to three different steaks to showcase. Serve the steaks either cubed with toothpicks, or in thinly-sliced strips, alongside two or three of your favorite cheeses. Add three to four small ramekins of your favorite steak sauces for guests to sample, along with toasted baguettes or breadsticks. Fruits and nuts are entirely optional for this board, but you won't want to miss the opportunity to share your favorite vegetables. Grilled mushrooms, seasoned and roasted diced potatoes, and roasted asparagus make great steak companions.
The Roast Beef Charcuterie Board
Roast beef isn't just for a crock pot dinner! Bring some cozy vibes to your next winter gathering with a charcuterie board dedicated to the ultimate comfort food. Start with a show-stopping roast, thinly sliced and splayed across the board. Amp up the savory vibes by adding your favorite roast root vegetables; roast potatoes are a perfect companion, and roast carrots will bring a sweet note to the board your guests will love. Dinner rolls flanking the sides of the board make an inviting border that will beckon your guests to make themselves right at home.
The Barbecue Rib Charcuterie Board
Nothing says casual and unfussy like barbecue ribs. If you're going for a comfortable and low-key vibe for your next get-together, look no further than a barbecue rib charcuterie board. To keep things from getting sloppy, it's a good idea to make use of various bowls and trays for each food. Start with your favorite barbecue rib recipe and add your favorite barbecue sides. We suggest corn on the cob, baked beans, coleslaw, and cornbread (stacked in squares or baked as mini muffins). 
A beef-heavy charcuterie board is sure to be a hit at your next gathering!
To learn more about our family-owned beef operation, you can visit us at www.OakBarnBeef.com or stop in and see us at 706 S. Lincoln St. in West Point, Nebraska.
Leave a comment