Kicking off Grilling Season | Oak Barn Beef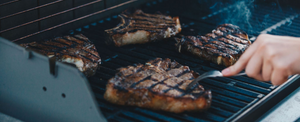 Grilling Season is Back!
It's a love story for the ages: meat and fire. Nothing says summer like the aroma of a thick, juicy steak sizzling on the grill. The thought is enough to make our hearts pitter-patter and our mouths water. Join us as we ceremoniously roll out our grills and kick off the start of another delicious grilling season!
Our Grilling Checklist
Before your grill makes its grand debut for the season, it's important to do a quick once-over to make sure everything is still in good working order. You've got a long grilling season ahead, and you won't want any hiccups while you're in the middle of searing your t-bones to perfection.
Inspect Your Grill
If you have a gas grill, you'll want to check the hose and the connections. If you see any damage, it's a good idea to go ahead and replace it now, before it causes any trouble. This is also a good time to clean your grill grates and scrub out the grease trap (pro tip: if you line your grease trap with durable aluminum foil, you can simplify this step for next time). While you have your grates removed, go ahead and inspect your burners and remove any debris. If you've got a charcoal grill, make sure to dump any old charcoal and ashes so you can start the season fresh.
A Reliable Heat Source
Nothing puts a damper on a backyard barbecue like firing up the grill only to run out of gas before your burgers are finished cooking. Whether you use a gas or charcoal grill, you'll want to make sure you're well-stocked for the season.
Meat Thermometer
Is there anything sadder than a tough, dry steak? Sometimes it's tricky to find the sweet spot. A meat thermometer is handy for cooking your beef to a safe temperature so you can pull them off of the grill right as soon as they're cooked to perfection. It's a tool no grill enthusiast should be without!
Dry-Aged Beef
We saved the best for last! It's probably pretty obvious, but you'll need something to put on the grill. And if you're going to go through all of the trouble of prepping your grill, you better make sure the food you're putting on it is exciting. We know you could run to the grocery store and grab any old tube of ground beef, but for the more discerning palates, we've got you covered.
Rave-worthy results start with quality beef. Our beef is DNA tested to ensure prime marbling and tenderness before it ever makes it to the locker, where it's dry-aged to perfection. We've got all of your favorite cuts, ground beef, and even kabob meat to make your time at the grill worthwhile. While you're in, you should pick up some of our favorite steak rub, Tom's Steak Rub.
Whether you're digging out your grill for the season or you're a dedicated year-round grill master, we hope we can earn a place at your summer cookouts. To learn more about our family-owned beef operation, visit us at www.OakBarnBeef.com or stop in and see us at 706 S. Lincoln St. in West Point, Nebraska.
Leave a comment