"I'm a Husker & a Business Owner!"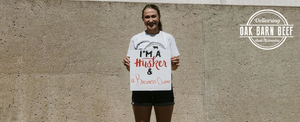 "I'm a Husker & a Business Owner!"
Recently, Hannah was featured on the University of Nebraska-Lincoln's Instagram. Hannah shared her experience with a member of the UNL Marketing Team on what it's like to be a full time student and a business owner. Here's the article taken directly from UNL's Instagram:
"As an Engler Entrepreneur, Hannah balances classes, tests and projects while also running her own business.

Though she knew coming into college she'd be a bit more focused on entrepreneurial endeavors than many of her classmates, she never expected that she would be running a business of her own by the time her senior year rolled around.

Hannah's entrepreneurial journey started during her sophomore year. She had become a Nebraska Beef Ambassador, and as she became more active in the beef industry she realized that there was a disconnect between many producers and their consumers.

With that in mind, she decided to start her own farm-to-table beef supplier: Oak Barn Beef.

It wasn't always easy. She had to juggle handling the business while also finishing up her last few years of school as an animal science major. She takes things day by day and week by week, always planning ahead so she can stay on top of all of her priorities.
Hannah said she wouldn't have been able to get Oak Barn Beef off the ground without help from her family and the Engler Agribusiness Entrepreneurship Program. Managing responsibilities as both a student and a business owner can be a lot to take on, but for Hannah it has been worth it. Because she's still in college she's been able to access opportunities and resources that wouldn't be as accessible off campus — like the Engler program or the New Venture Competition. It might seem scary, but she encourages students to pursue their entrepreneurial passions. "There's not a better time to start a business than when you're a student."
...
Hannah Esch is a senior animal science student from Unadilla, Nebraska. To share your story or nominate a friend, email social@unl.edu or post using 
#ImAHusker
. 
#UNL
#InOurGritOurGlory
"
Leave a comment